scholarship program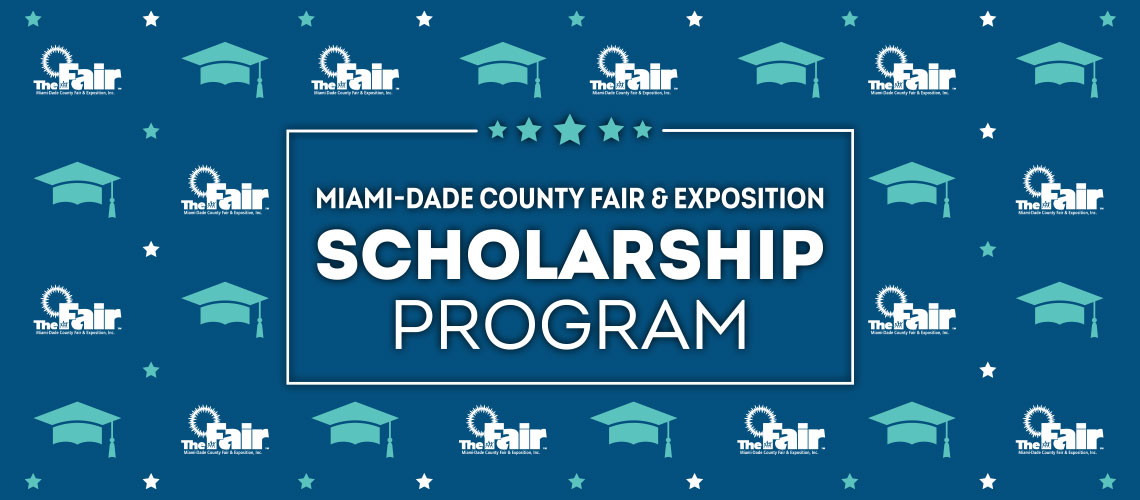 The Miami-Dade County Fair & Exposition Scholarship Program was created to recognize and honor the youth of Miami for demonstrating a strong sense of commitment and participation in school and community activities. Multiple scholarships are awarded each year to students enrolling in a college, university or trade school.
---
---
Frequently Asked Questions
How much is the scholarship?
The Scholarship winners each receive $1,000.

Who is eligible?
The scholarship targets college-bound senior high school students graduating from public, private and charter high schools.

Are home-schooled students eligible to apply?
Yes, all students who meet college admissions requirements and will enroll in a school of higher education are eligible.

What about non-traditional students?
The inclusive competitive scholarship program reaches students at alternative education and adult vocational programs. Also, Florida International University students who volunteer their time and talent to work at The Youth Fair's performing arts division are eligible to receive a scholarship.

How does this program promote agriculture?
Certain scholarships are earmarked annually for students planning a career in agriculture related fields. The Youth Fair is a traditional county fair, a concept that originated in the 19th century as a way to promote modern farming.

How do I apply?
Print an application and submit a complete application to your high school's CAP Advisor. Check back Fall 2022 for 2023 information

Who can I contact for more information?
For questions about the scholarship, please email us at scholarships@fairexpo.com
---
2022 Miami-Dade County Youth Fair & Exposition Scholarship Program Recipients
Amirali Danai
Alonzo and Tracy Mourning Senior High - Biscayne Bay
Selin Ravelo
American Senior High School
Kaitlyn Landrove
Barbara Goleman Senior High School
Melanie Juarez
BioTech@Richmond Heights 9-12 High School
Amanda Perez
Coral Gables Senior High School
Richard Tijerino
Coral Reef Senior High School
Madison Noud-Carroll
Cutler Bay Senior High School
Valeria Rodriguez
Design and Architecture Senior High School
Galit Beraja
Dr. Micheal Krop Senior High School
Sophie Chin
Felix Varela Senior High School
Gabriela Verez
G. Holmes Braddock Senior High School
Kiara Llaugert
Hialeah Gardens Senior High School
Rolando Serrano
Hialeah- Miami Lakes Senior High School
Jade Rodriguez
Hialeah Senior High School
Melody Lozano
Homestead Senior High School
Samantha Peltrau
iPreparatory Academy
Ronie-Gabrielle Colin
Itech @ Thomas A. Edison Ed. Ctr.
Meadow Manfredini
John A Ferguson Senior High School
Indira Singh
Jose Marti MAST 6-12 Academy
Grey Castellanos
Law Enforcement Officers Memorial High School
Valentina Baredes
Mast @ FIU Biscayne Bay Campus
Diego Zalles
MAST Academy
Grace Whitter
MAST@ Homestead
Melissa Rodriguez
Miami Arts Studio 6-12 @ Zelda Glazer
Ashley Adirika
Miami Beach Senior High School
Destiny Elistin
Miami Carol City Senior High School
Lennies Kamau
Miami Central Senior High School
Aldana Quiroga
Miami Coral Park Senior High School
Rose Jean
Miami Jackson Senior High School
Joanna Shillingford
Miami Killian Senior High School
German Nolivos
Miami Lakes Educational Center
Anissa Carby
Miami Norland Senior High School
Cori'Anna White
Miami Northwestern Senior High School
Janese Fayson
Miami Palmetto Senior High School
Jose Caballero
Miami Senior High School
Destiny Tejera
Miami Southridge Senior High School
Suani Martinez
Miami Springs Senior High School
Sabrina Gomez
Miami Sunset Senior High School
Anna-Carolina Roca
New World School of The Arts
Kaseam Purkiss
North Miami Beach Senior High School
Wood Joseph
North Miami Senior High School
Jennifer Montero
Robert Morgan Senior High School
Juan Lupi
Ronald W. Reagan/Doral Senior High School
Nicole Torres
School for Advanced Studies
Delanie Monroe
School For Advanced Studies- Homestead
Andrea Hurtado
School For Advanced Studies- North Campus
Gabriel Plescher
School for Advanced Studies- West Campus
Jiaya Jade Xu
School For Advanced Studies- Wolfson
Miguel Lassus
Somerset Academy South Homestead
Damaris Sibrian
South Dade Senior High School
Jonya Moore
South Dade Senior High School
Isabela Diaz
South Miami Senior High School
Jayquan McAllister
South Miami Senior High School
Nilias Vidarte
Southwest Miami Senior High School
Sydney Sever
Terra Environmental Research Institute
Jailyn Blanco
Westland Hialeah Senior High School
Thierry Laguerre
William H. Turner Technical Arts High School
Hassim Ali
Young Men's Preparatory Academy
Isabella Carrandi-Betancor
Young Women's Preparatory Academy
Elisa Ben Mansour Pablo
International Studies Preparatory Academy
Marville Marcelin
Dorothy M. Wallace COPE Center
Miranda De La Noval
Florida Christian High School
Peter Zavala
Colonial Christian School
Jaylin Mendez
Mater Lakes Academy
Jonathan Nuban
The English Center
Jose Espinoza
The English Center
Noreisy Barboza
The English Center
Asia Miller
Robert Morgan Technical College
Dean Mcintosh
The English Center
Penelope Wood
George T. Baker Aviation Technical College
Tiffany Wood
George T. Baker Aviation Technical College
Shakera Gibson
D.A. Dorsey Technical College
Ifeanyi Ibennah
George T. Baker Aviation Technical College
Ashanti Nunes
William H. Turner Technical Arts High School
Faith Smith
Miami Jackson Senior High School