Howdy Tours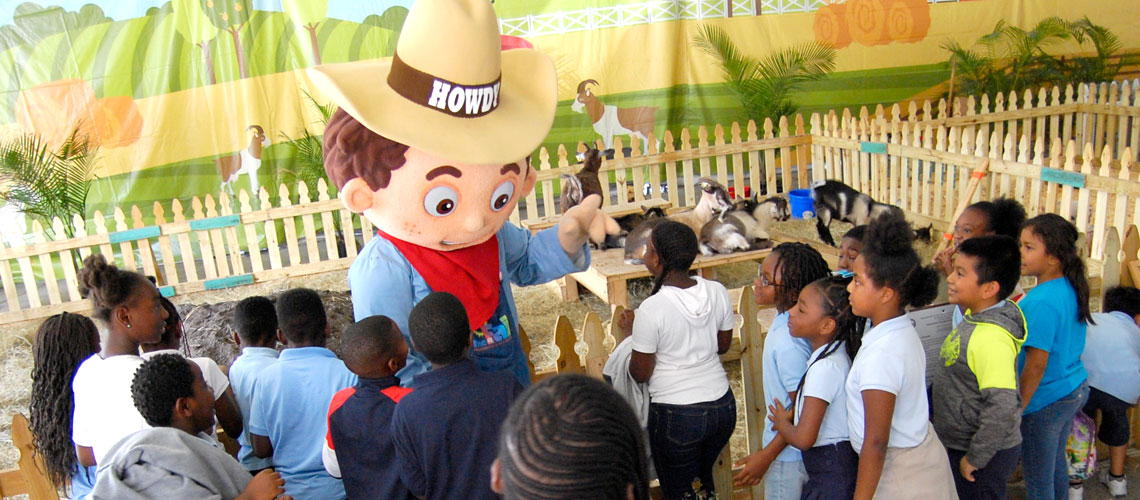 2024 HOWDY TOUR
Each year, hundreds of second and third graders attend a Howdy Tours at the Youth Fair where Howdy provides students with an immersive introduction into agriculture. During these tours, they learn about the wonderful world of plants and animals. Students receive a first, gentle glimpse of hamburger or pork chops on the hoof and learn where milk comes from. 
WHO IS HOWDY? 
Howdy is the wonderful. freckled face goodwill ambassador for agriculture at The Youth Fair. With the assistance of students from the Miami-Dade County agriculture programs and the cooperation of our agriculture community, he has developed an educational program that helps the local community gain a better appreciation and understanding of those who produce, distribute and inform us of a basic need, food and the environment.
WHEN AND WHERE IS THE HOWDY TOUR? 
The 2024 Howdy Tour will take place on Monday, March 18, 2024 from 9 am – 1 pm. All activities will take place inside the Barn at the Youth Fair during non-operating hours. 
HOW DO I GET MY STUDENTS SIGNED UP FOR A HOWDY TOUR? 
Please email us at  exhibits@fairexpo.com to register for the 2024 Howdy Tours. Spots for Howdy Tours are limited, so we encourage you to sign up early! Registration is necessary to participate. An educational packet will be sent to your school beforehand to help teachers and students get ready for their Howdy Tour. All students will receive a Howdy souvenir upon completion of the program.