Walter B. Arnold, Jr. Youth Hall of Fame Community Service Award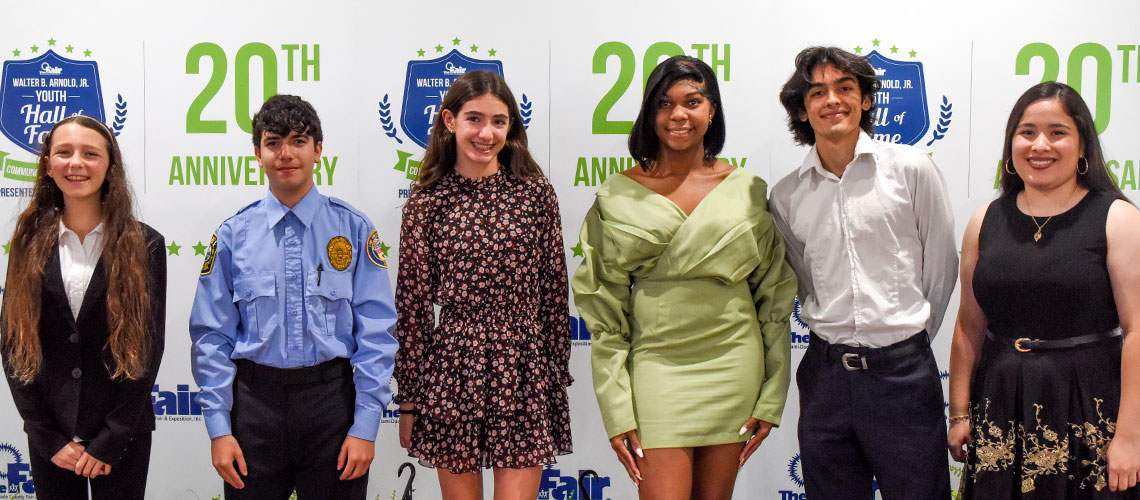 Walter B. Arnold Jr. admired the creativity, dreams and accomplishments of our community's youth and wanted to recognize and reward these talented young people. He was devoted to youth programs, community service and the celebration and recognition of young achievers.
The Youth Hall of Fame community service award recognizes noteworthy youth achievement for private and public middle and high school students from Miami-Dade County in service to their school and/or community.
---
Qualifications
Open to all middle and high school students in public, private, parochial and home schools.
Students should show an ability to lead and involve others in their community service project.
Students should demonstrate perseverance, independence, creative and critical thinking skills.
All services must be documented.
Community service should be varied with one major community service project highlighted.
---
Youth Hall of Fame Inductees
High School

2001
Linda Oriental
Miami Jackson Senior High School
2002
Medardo Martin
Hialeah Senior High School
2003
Kathryn Zabielinski
Coral Reef Senior High School
2004
Alice Kim
Miami Palmetto Senior High School
2005
Harley N. Gould
Dr. Michael Krop Senior High School
2006
Laura E. Irastorza
Our Lady Of Lourdes Academy
2007
Judelys Gutierrez
Hialeah Miami Lakes Senior High School
2008
Kem Chatfield
Miami Carol City Senior High School
2009
Nicole Ludmir
Dr. Michael Krop Senior High School
2010
Dale Webster
Young Men's Academy
2011
Manuel Macias
Christopher Columbus High School
2012
Angeline Pino
International Studies Charter Senior High School
2013
Betsy Trujillo
G. Holmes Braddock Senior High School
2014
Leia Schwartz
Coral Reef Senior High School
2014
Waleed Mneimneh
Palmer Trinity School
2015
Kimberly Foreiter
Dr. Michael M. Krop Senior High School
2016
Maribel Corona-Villa
Robert Morgan Educational Center
2017
Shawn Kouri
Hialeah Senior High School
2018
Anilegna Nuñez Abreu
South Miami Senior High School
2019
Jazmin Neadle
South Miami Senior High School
2023
Arianna Martinez
New World School of the Arts

Middle School

2001
Kyle Amber
Palmetto Middle School
2002
Rigoberto L. Cabrera
Riviera Middle School
2003
Laura Irastorza
Epiphany School
2004
Leotha III Fleming
Allapattah Middle School
2005
Ethan Addicott
Highland Oaks Middle School
2006
Ashley Rempel
Arvida Middle School
2007
Natalie Buell
Homestead Middle School
2008
Michael V. Berrios
Miami Lakes Middle School
2009
Yhineeidy Castro
Henry H. Filer Middle School
2010
Tylor Davis
Southwood Middle School
2011
Kimberly C. Foreiter
John F. Kennedy Middle School
2012
Ashley Scarry
Southwood Middle School
2013
Joshua Williams
Ransom Everglades Middle School
2014
Sophie Barry
George Washington Carver Middle School
2015
Alyssa Cerber
George Washington Carver Middle School
2016
Gwendolyn Odin
Miami Springs Middle School
2017
Madison Amador
Leewood K-8 Center
2018
SaiLasya Munamarty
Archimedean Middle Conservatory
2019
Joi Turned
F.C. Martin K-8 Center
2023
Addiel Santana
Hammocks Middle School
---
2023 Inductees
Arianna Martinez

New World School of the Arts – Central Region Finalist

Arianna Martinez is truly a candle hoping to fill the world with light. As a high school freshman, she founded Just One Candle, an organization designed to support underserved children that has since expanded to also serve the elderly within her community. Arianna recognizes the need to support these vulnerable populations, and she has made it her mission to ensure each has the resources needed to lead rich, fulfilling lives.

Just One Candle's initial efforts were focused on helping children in need. With over $4,000 of in-kind donations of books, clothing, and toys, Arianna has helped children develop their reading skills, kept them warm, and provided much needed stimulation and entertainment. During the pandemic in 2020, Arianna began writing poetry and converted her poems into songs. As a talented vocalist, she received a request to sing to someone's elderly parents – an opportunity she relished and one that would be transformative for her and her organization. Realizing how isolated the elderly were during the pandemic and with deep, personal knowledge of how the arts promote connection, she created a Poetry Reading and Singing Program within Just One Candle to provide senior citizens with private poetry readings and music concerts.

When asked about the impact Just One Candle has had on her, Arianna says she has received far more than she has given and that her life is enriched whenever she is able to enrich the lives of others. She hopes to continue the great work of Just One Candle when she transitions to college, and she has led efforts for the organization to partner with One More Child in the future. This partnership with another local entity committed to supporting children and families in need will extend the reach of Just One Candle and allow Arianna to continue filling the world with her brilliant light.

Addiel Santana

Hammocks Middle School – South Region Finalist

Known as the "Mayor of Hammocks Middle School," Addiel Santana has made it his mission to make a difference for others. An eighth grader enrolled in his school's Legal Studies Academy, he has leveraged his interest in law enforcement and natural leadership abilities to establish the Miami-Dade Schools Police Department's Police Explorers Program at Hammocks Middle.

As the Chief Explorer, Addiel collaborates with his School Resource Officer to schedule program activities, service projects, and safety talks and demonstrations – all in an effort to provide an additional forum for his peers to learn more about careers in criminal justice. In fact, he has become the "go-to" Police Explorer among School Resource Officers seeking input on how to improve programming and recruitment efforts for the posts they oversee at their respective schools.

Beyond Police Explorers, Addiel serves as President of the Student Council and captain of the Hammocks Middle Dream in Green Environmental Club. He hopes to continue using his "take charge" attitude to promote the safety and well-being of others and further serve his community by pursuing a career as a police officer.
---
2023 High School Finalists
Willayja Williams

Dr. Michael M. Krop Senior High School – North Region Finalist

Willayja Williams is living proof that where one starts in life does not necessarily determine where one ends up. The daughter of a teen mother, Willayja understands the critical role children's first five years of life have on their overall development and eventual life outcomes. It was a strong desire to help give all children a fighting chance that led her to create Read Aloud by Willayja, an organization that fosters early literacy skills among children ages 2-5 through weekly read-aloud opportunities and the provision of reading materials that parents can use with their children at home.

Recognizing the severe impact the physical restrictions caused by the COVID-19 pandemic had on children, Willayja began reading to her young relatives through Zoom. This eventually grew to ten families tuning in to her read-aloud sessions, where she frequently read classics like The Cat in the Hat. Through strategic fundraising efforts and collaboration with the Hallandale Beach Leadership Academy, she was able to increase her overall impact and reach even more children in her community.

As she transitions to college, Willayja hopes to expand her service by offering a mailing book program to reach the children in the new community she will call home. Thanks to Read Aloud by Willayja, hundreds of children have been placed on a trajectory that empowers them with the literacy skills they need to thrive and further contribute to our society. And with her tenacity and unwavering commitment to serving others, Willjaya will ensure hundreds more benefit from her program.

Diego Espinosa

Miami Palmetto Senior High School – South Region Finalist

Diego Espinosa is committed to serving others and paying things forward in any way he can, whether it be through his participation in the Key Club, the Model United Nations, Pinecrest City Music Project, or as Senior Class President. Among the service endeavors he is most proud of is the Ambassador Initiative, a program he launched at his high school to support students transitioning to the United States from other countries.

Having lived in numerous places throughout his life – including Mexico, Dubai, and Brazil – Diego remembered his difficult transition to Miami Palmetto Senior High School. Despite having been "the new kid" several times in his life, enrolling at a U.S. high school as a freshman just felt different. Motivated by his own struggles and experiences, he turned helplessness into helpfulness by founding the Ambassador Initiative to pair recently arrived students with in-school peers that can provide assistance in navigating high school. Whether it be helping a student understand their class schedule, explaining graduation requirements, or describing what school activities are available, an ambassador serves as a friendly face and critical lifeline. Additionally, students serving as ambassadors are afforded the distinct privilege of learning about themselves as they learn about the different cultures of their peers.

With Miami being a top destination for individuals fleeing their native countries due to natural disasters or political issues, Diego believes there will always be a need for the Ambassadors Initiative. As such, he has begun laying the necessary foundation to ensure the program continues long after he graduates high school so that future students at Palmetto are able to reap the benefits from it. He also envisions creating a similar program at the college/university he attends in the fall.
---
2023 Middle School Finalists
Milana Lamdan

Norman S. Edelcup/Sunny Isles Beach K-8 – North Region Finalist

"Some people need more help than others, so why not help out?" These are the words spoken by seventh grader Milana Lamdan, and they embody the philosophy by which she lives. Whether it's tutoring her peers, fundraising, making toys for animals through the Humane Society, or raising awareness of the importance of caring for our environment through her participation in the Everglades Club, Milana sees service as a win-win for everyone.

Milana is most proud of her work with Better Together, a project that connects teens with senior citizens in an effort to bring sensitivity to and increase respect for the elderly. She has contributed her time to spending evenings with them, usually sharing a meal and engaging in rich conversations about their personal histories. Her experience has reaffirmed the importance of performing service for others – and it is something that has made her want to give even more of herself to support her community.

Making others smile is what brings Milana joy. She hopes to continue helping as many people as she can and making the world a better place.

Hanna Sultz

iPrep Academy – Central Region Finalist

Pablo Picasso once said, "The meaning of life is to find your gift. The purpose of life is to give it away." At just 14 years old, Hanna Sultz has found both meaning and purpose by utilizing her skills as a competitive gymnast and helping to train younger students in the sport.

Hanna has volunteered as an Assistant Coach at Expressions of Talent, the gymnastics studio where she spent over ten years perfecting her craft. In that capacity, she worked alongside the head coaches to support girls and boys ages 6-10 in mastering fundamental skills like handstands, somersaults, cartwheels, and balancing tricks. In addition, she helped them build their confidence and taught them important lessons related to hard work, perseverance, and teamwork.

When asked about the impact that her service project has had on her as an individual, Hanna describes helping others as empowering, and she has credited her experience with helping her identify her future career path. She hopes to pursue a job in athletics, such as a personal fitness coach or a gymnastics coach, so she can continue helping others become the best versions of themselves.
---
Frequently Asked Questions
Who is eligible to apply?
Middle and high school students who invest their time and energy in helping others overcome hardships are eligible to win the award.
How many awards are allocated?
Four middle-school students and four senior high school students from public and private schools are selected every year.
What is the value of the award?
Finalists are also recognized in each of the five Regional Centers of Miami-Dade County Public Schools at the high school and middle school level. Private school finalists will be divided into the Regional Centers by the physical address of the school. Each finalist is awarded $100. One middle school and one high school Miami-Dade County student is selected each year to be inducted. Each inductee is awarded $1,000.
---
Photo Gallery