Walter B. Arnold, Jr. Youth Hall of Fame Community Service Award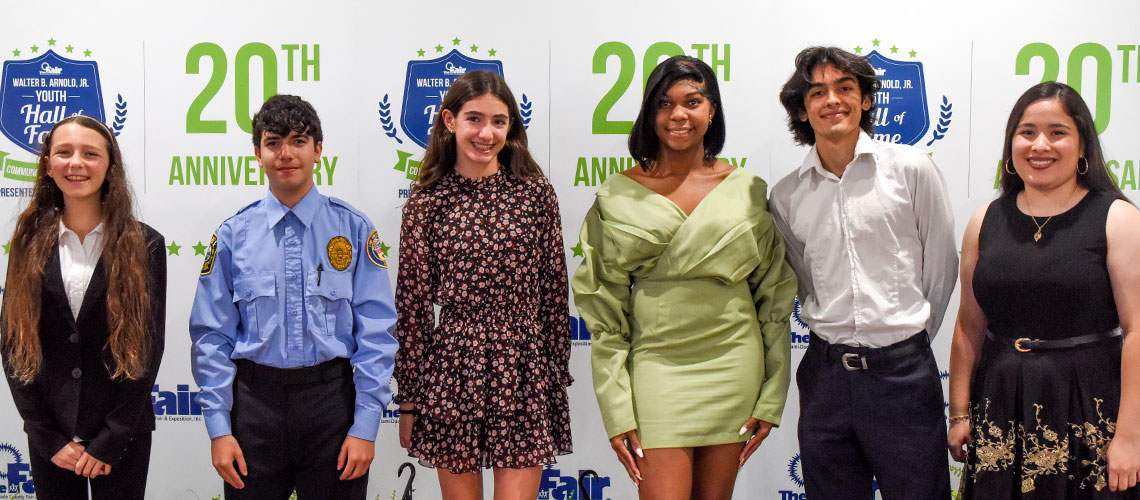 Walter B. Arnold Jr. admired the creativity, dreams and accomplishments of our community's youth and wanted to recognize and reward these talented young people. He was devoted to youth programs, community service and the celebration and recognition of young achievers.
The Youth Hall of Fame community service award recognizes noteworthy youth achievement for private and public middle and high school students from Miami-Dade County in service to their school and/or community.
2023 Youth Hall of Fame information coming soon.
---
Qualifications
Open to all middle and high school students in public, private, parochial and home schools.
Students should show an ability to lead and involve others in their community service project.
Students should demonstrate perseverance, independence, creative and critical thinking skills.
All services must be documented.
Community service should be varied with one major community service project highlighted.
---
Frequently Asked Questions
Who is eligible to apply?
Middle and high school students who invest their time and energy in helping others overcome hardships are eligible to win the award.
How many awards are allocated?
Four middle-school students and four senior high school students from public and private schools are selected every year.
What is the value of the award?
Finalists are also recognized in each of the five Regional Centers of Miami-Dade County Public Schools at the high school and middle school level. Private school finalists will be divided into the Regional Centers by the physical address of the school. Each finalist is awarded $100. One middle school and one high school Miami-Dade County student is selected each year to be inducted. Each inductee is awarded $1,000.
---
Youth Hall of Fame Inductees
High School

2001
Linda Oriental
Miami Jackson Senior High School
2002
Medardo Martin
Hialeah Senior High School
2003
Kathryn Zabielinski
Coral Reef Senior High School
2004
Alice Kim
Miami Palmetto Senior High School
2005
Harley N. Gould
Dr. Michael Krop Senior High School
2006
Laura E. Irastorza
Our Lady Of Lourdes Academy
2007
Judelys Gutierrez
Hialeah Miami Lakes Senior High School
2008
Kem Chatfield
Miami Carol City Senior High School
2009
Nicole Ludmir
Dr. Michael Krop Senior High School
2010
Dale Webster
Young Men's Academy
2011
Manuel Macias
Christopher Columbus High School
2012
Angeline Pino
International Studies Charter Senior High School
2013
Betsy Trujillo
G. Holmes Braddock Senior High School
2014
Leila Schwarts
Coral Reef Senior High School
2014
Waleed Mneimneh
Palmer Trinity School
2015
Kimberly Foreiter
Dr. Michael M. Krop Senior High School
2016
Maribel Corona-Villa
Robert Morgan Educational Center
2017
Shawn Kouri
Hialeah Senior High School
2018
Anilegna Nuñez Abreu
South Miami Senior High School

Middle School

2001
Kyle Amber
Palmetto Middle School
2002
Rigoberto L. Cabrera
Riviera Middle School
2003
Laura Irastorza
Epiphany School
2004
Leotha III Fleming
Allapattah Middle School
2005
Ethan Addicott
Highland Oaks Middle School
2006
Ashley Rempel
Arvida Middle School
2007
Natalie Buell
Homestead Middle School
2008
Michael V. Berrios
Miami Lakes Middle School
2009
Yhineeidy Castro
Henry H. Filer Middle School
2010
Tylor Davis
Southwood Middle School
2011
Kimberly C. Foreiter
John F. Kennedy Middle School
2012
Ashley Scarry
Southwood Middle School
2013
Joshua Williams
Ransom Everglades Middle School
2014
Sophie Barry
George Washington Carver Middle School
2015
Alyssa Cerber
George Washington Carver Middle School
2016
Gwendolyn Odin
Miami Springs Middle School
2017
Madison Amador
Leewood K-8 Center
2018
SaiLasya Munamarty
Archimedean Middle Conservatory
---
2019 Inductees
Jazmin Neadle

As a child of the foster care system, Jazmin has firsthand knowledge of what it means to do without, to not have the normal childhood celebrations such as birthdays, parties, or holiday gift exchanges. That is until she was adopted in the sixth grade by a loving family. Her turning point was when her mom gave her a quinceañera celebration. Jazmin realized her calling was to be the quinces fairy godmother to teens in foster care by ensuring they had celebrations of the milestones in their lives that often go unacknowledged in foster care. This led to her creation of A Sweet Chance, a non-profit organization that brings a pampering and glamor to teens in foster care who are otherwise ignored when it comes to the extras in life. Jazmin recruited business and professionals in the community to donate their time and needed items to give these teens a night of glamour, music, food, and fun. Jazmin organized donations of outfits, hair styling, make-up, and photography professionals to turn each of these young ladies into a shining star. Jazmin knows just how important these moments are to get through tough times. She believes her efforts prove to these young ladies that they are special and worthwhile.

Joi Turner

As a 6th grader at F.C. Martin K-8 Center, Joi Turner has earned many titles. Chef, CEO, entrepreneur, and philanthropist are just a few of them. At just 11 years old, Joi is the founder, Chef, and CEO of Delivering Joi, an organization that collects donated food and turns it into meals for those in need. Joi's mission is to bring the food to people in need. Delivering Joi provides meals to neighbors and other community members who need them without discriminating based upon living conditions. She solicited donations of food and turned them into meals. She cooks, packs, and delivers those meals to anyone who she sees in the area in need. Joi sees herself getting others involved in using their talents to help those around them. Joi's teacher sees her drive, intelligence, and immense heart as an unbeatable combination. Her classmates see this, too, as she has motivated some of them to join her in bettering the community.