frequently asked questions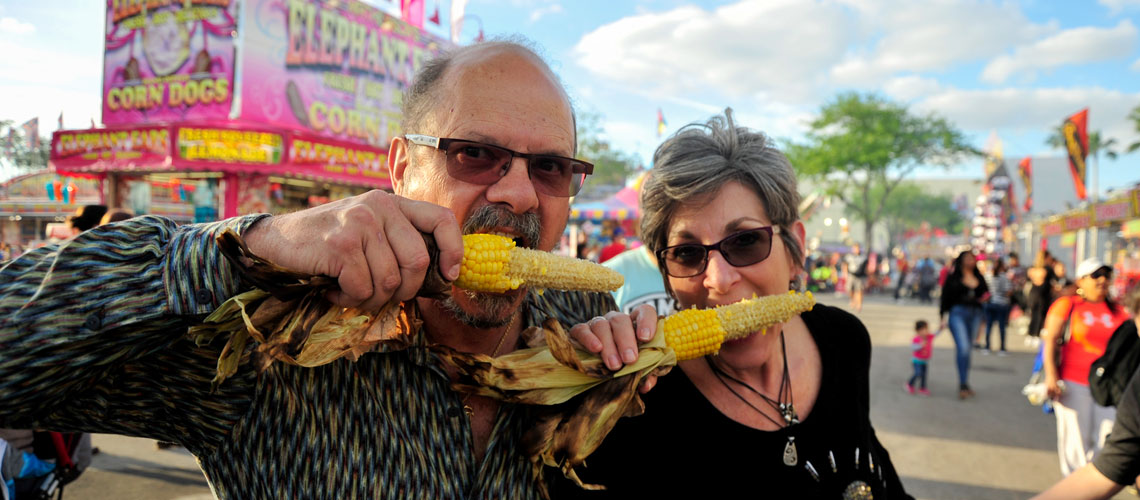 General
Where is The Youth Fair located?

The address for the Miami-Dade County Fair and Exposition, Inc. is:
10901 SW 24 St.
Miami, FL 33165

When is the 2022 Youth Fair?

The 2022 Youth Fair will take place March 17 – April 10 (except 3/28-29 and 4/4-5)

What are the operating hours?

Our opening times can be found

here

. We're open late daily, but our closing times vary.

What time do you close??

We're open late every night! Closing times vary. Front Gate ticket booths may close at 10pm or later. Closing times subject to change. Park stays open until midnight or later on busy nights. Closing times subject to change.

What COVID policies will be required of guests attending the 2022 Youth Fair?

Our COVID policy is subject to change, however the latest COVID requirements can be found

here

.

How can I get the latest updates on the 2022 Youth Fair?

The best way to keep up with all Youth Fair related news is to sign up for our newsletter.

Click here

to sign up.

Do you accept credit and debit card payments?

Mastercard and Visa are accepted but some vendors may require cash. We do not accept American Express.
NOTE: When purchasing tickets online, you must present debit or credit card used for purchase and ID at fairgrounds. The name on the ID and purchaser's debit or credit card must match.

How much is parking?

General parking is FREE. Preferred parking is available onsite for purchase, prices vary.

Can I bring my own food?

Outside food, beverages, and Styrofoam® food/drink containers are not permitted on the fairgrounds.

Can I bring a selfie stick?

Selfie sticks are not permitted on the fairgrounds or in any of our buildings.

Are pets allowed on the fairgrounds?

While we love animals, we ask that you please leave your pets at home as they will not be allowed on the fairgrounds. This includes Emotional Support Animals. SERVICE animals, as defined by the Americans with Disability Act, will be permitted on the fairgrounds.

Where can I find the daily Schedule?

WEBSITE: Find the daily schedule of Click Here
APP: Visit the "Schedule" section on The Youth Fair app.
AT THE FAIRGROUNDS: Ask Guest Relations for a copy of this year's New Food Tour Guide which includes the daily entertainment schedule.

What shows and attractions do you have this year?

WEBSITE: Browse our daily entertainment lineup Click here
APP: Visit the "Shows and Attractions" section on The Youth Fair app.

What rides will you have this year?

WEBSITE: Browse the complete rides list Click here
APP: Visit the "Rides" section on The Youth Fair app.

What are the height requirements for the rides?

You can find height requirements for all the rides

click here

.

How do I download The Youth Fair app?

Where can I find a map of the fairgrounds?

Download our app or ask for a map at the Guest Relations booth.

Where can I find the New Foods this year?

WEBSITE: You can find all the new foods click here
APP: Visit the "New Food" section on The Youth Fair app
Tickets
How much are admission tickets?

For pricing on admission tickets, please

click here

.

What is included with admission?

Admission includes entry, all shows and entertainment, events inside The Barn, The Garden, student competitions inside Edwards Hall, and much more. Rides are not included with admission ticket.

How much are ride tickets?

There are two ways to get on the rides

Unlimited Rides Ticket (previously referred to as P*O*P or Pay One Price) – This ticket gives guest access to all rides at for ONE day. Click here for more information or to purchase.
Individual Ride Tickets (previously referred to as credits/coupons) – Each ride requires a specified amount of individual ride tickets to access the ride. These can be used to pay as you ride. To see ticket requirements per ride, click here

For pricing on the Unlimited Rides Ticket and/or individual Ride Tickets, please

click here

.

Can the Unlimited Rides be used on the weekends?

Yes, the Unlimited Rides Ticket is valid on weekdays and weekends. However, pricing for the Unlimited Rides Ticket varies.

Click here

for ticket pricing.

Is there an Express Pass for rides?

Yes, you can only purchase an Express Pass once at the fairgrounds for $20. Limited quantities available per day

How do I participate in games?

Game booths will be accepting cash to participate.

How can I purchase tickets?

Tickets can be purchased online

here

. Please note that when purchasing tickets online, you must present credit card used for purchase and ID. ID must match the name on the purchaser's credit card. Tickets can also be purchased at your local Sedano's store.

If I leave and come back to The Youth Fair on the same day, do I have to pay again?

If you must leave the fairgrounds and return at a later time on the same day, please let the attendant at the exit know that you will be returning. They will provide a stamp that will allow you to re-enter the fairgrounds on that same day.

I purchased my tickets but can't find them in my inbox. How can I retrieve them?

You will receive a confirmation ticket from "Etix". Please search your inbox and spam folders for an email from this sender.
If you still can't locate your tickets, fill out this form to retrieve your tickets click here
If you still have trouble locating your tickets, please call customer support at 1-800-514-3849.
Accessibility
Is there a handicap drop-off area?

The handicap drop-off area is in front of the main entrance. Click here for a map.

Do you offer wheelchair, wagon and stroller rentals?

Wheelchair, wagon and stroller rentals are available near the Main Gate.

Single Strollers $10/day
Double Strollers $15/day
Wheelchairs $25/day
Electric Wheelchairs $55/day
Wagons $15/day.

What if I am taking public transportation, Taxi, Uber, Lyft, or being dropped off at the fairgrounds?

Please enter at Coral Way and 112th Avenue for rideshare drop-off and pick-up.
Get Involved