FAIR FOOD DRIVE-THRU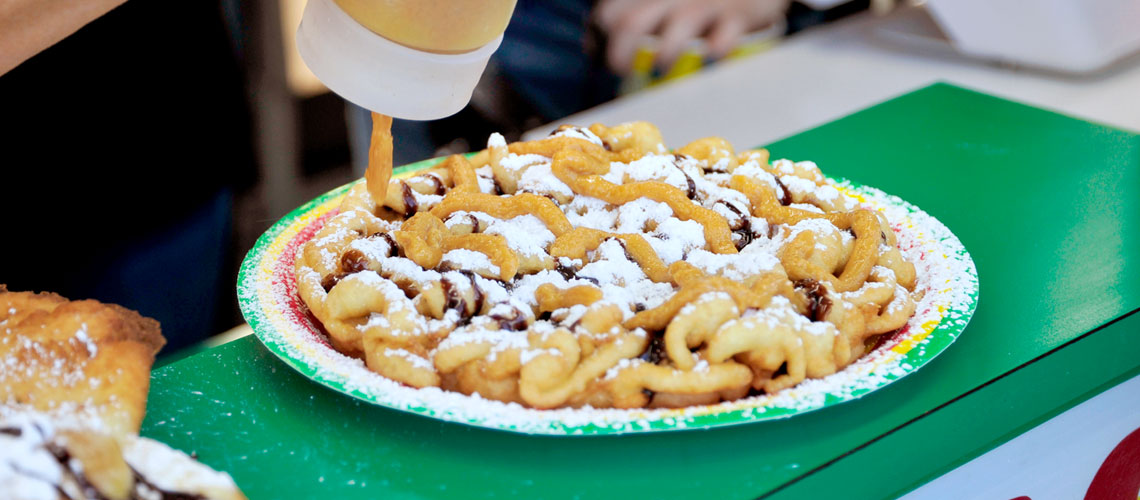 August 7 - 9 & August 14 - 16
4 pm - 9 pm
Menu
BBQ Meal - $16 NEW
Your choice of meat (ribs or pulled pork) and slice of Texas toast
Your choice of two sides (mac n' cheese, fries or baked beans)
---
Pulled Pork Sandwich $9 NEW
---
Mini Donuts Bucket $10 NEW
(20 mini donuts per bucket)
---
BBQ Chicken Bacon Gyro $10 NEW
---
Elephant Ear $6
(topped with your choice of powdered sugar or cinnamon)
Additional Toppings:
Chocolate +$1 • Caramel +$1 • Apple +$2 • Strawberry +$2 • Cream Cheese +$2
---
Funnel Cake $6
(topped with your choice of powdered sugar or cinnamon)
Additional Toppings:
Chocolate +$1 • Caramel +$1 • Apple +$2 • Strawberry +$2 • Cream Cheese +$2
---
Red Velvet Funnel Cake $8
---
Fried Oreos $6
(5 oreos included in one order)
---
Greek or Chicken Gyro $9
(Includes onions, tomatoes, and sauce)
---
Tray of Fries
Medium $6 • Large $9
Additional Toppings:
Cheese +$1 • Chili +$1
---
Roasted Corn $4
(served in the husk dipped in butter)
---
Turkey Leg
One for $12 • Two for $22
---
Corndog
Regular $5 • Giant $7
---
Chicken Tenders $6
(3 pieces per order)
Add Fries +$2
---
Cotton Candy
Regular $6 • Large $9
---
Popcorn $4
---
Candy Apple $4
---
Caramel Corn $6
---
Caramel Apple $4
---
Drinks
Soda (31 oz. Fair Souvenir Cup) - $6
Lemonade (31 oz. Fair Souvenir Cup) - $6
Aquafina (16.9 oz Bottle) - $3

---
Ready to eat? How this works!
*Masks must be worn at all times except when eating. Cash and credit/debit cards accepted.
Drive-Thru
1. Enter fairgrounds at SW 109th Avenue and Coral Way (Gate #2).
2. Follow signs for Drive-Thru to proceed to ordering area.
3. A member of our team will approach your vehicle to take your order and payment. Please have your order ready.
4. Once your order is placed, you will move forward to the waiting area while your order is being prepared. Your order will be delivered to your vehicle once ready.
5. Once you have received your order, guests will have the option to park in the designated area to eat their treats. All guests must remain in their vehicles.
6. When ready, follow the directional signs to the exit.
---
What You Can Expect From Us
Safety is our number one priority. We will be following all required guidelines and best practices for operating safely in this new normal. Here is what we're doing to keep you safe:
All staff required to wear disposable gloves and face masks at all times.
All staff required to wash hands prior to starting work, frequently during shifts and between tasks. Staff are required to wash hands and change gloves every 30 minutes.
All staff to have temperature check upon arriving for work.
All food handled with utensils to limit touchpoints.
All payment devices will be sanitized after every use.
See all guidelines outlined by Miami-Dade County in "The New Normal Guide"